Discover more from on poetry & being human
on poetry & being human
round-up: 8/02
opportunities, quotations, news, a freebie, etc.
Happy Tuesday, folks!
Here's what I have for you today:
Housekeeping

What I've been thinking about

Opportunities

To read

Quotations

Call to action

Tweets
---
Housekeeping:
I have been having a really great time making necklaces. Here are a few of them:
They're all available to purchase for $15 USD at All Swarm Co. International shipping available!
---
What I've been thinking abt this week:
how close self-sabotage can be to self-preservation
---
Here are some selfies:
---
Opportunities:
Poets & educators:
Frontier Poetry seeks "highly qualified writers to write editorial feedback to our submitters. The hours per month are self-determined, but can range from 10 – 50+ hours." (Via Twitter, I've ascertained that "as of right now, there is no fixed deadline as we are accepting Guest Editor applications on a rolling basis; however that might change. Guest editors are compensated $25 USD per completed editorial letter.")
I did this for two years & it was a great way to supplement my grad school stipend.
Fiction writers:
"The Department of Journalism and the Writing Professions at Baruch College, City University of New York, invites applications from experienced creative writers for a full-time, tenure-track position as an assistant professor, starting Sept. 1, 2023. The successful candidate will have several years' experience as a professional creative writer, evidenced by published short work in recognized literary journals or other noted periodicals, or at least one book published by an established trade, independent, university or regional press. Proficiency in fiction-writing and one other creative-writing genre — such as film writing, literary nonfiction, memoir, or fiction podcasting — is required. We are not seeking a poet."
A queer/trans Arab anthology:
Send us up to 4 poems, or 6 pages, as well as up to 2,500 words for fiction or creative nonfiction. Translation from Arabic-English is welcome! Please submit .doc or .docx files. PDFs will be accepted if you are submitting visual poems. As the anthology editors, we care about showcasing work by queer and/or trans Arab writers or Arabophone writers, whether or not the work is about being queer and/or trans and Arab or Arabophone. We are much less interested in submissions that rely heavily on identity tropes or that cater to outside audiences in an explainy or didactic manner unless it is being done in a fresh way. Please do not send us work that is transphobic, queerphobic, racist, anti-Black, anti-Indigenous, ableist, fatphobic, etc. If you're unsure, get someone to read it beforehand. (Pays $200)
One more: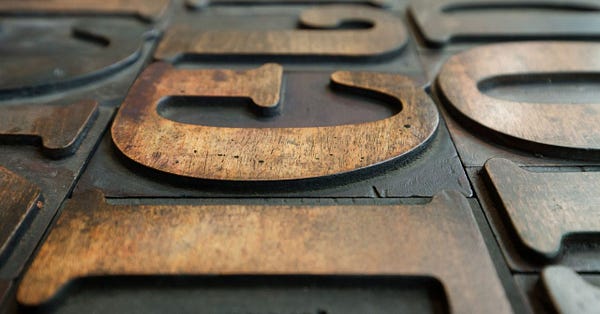 alphabetbox.com
Alphabet Box
---
Writer drama:
Why is this saga (& all of Ana's sagas) so ….. wild?
A new Jumi Bello article. Everything's sad.
Note:
I have a lot to say abt this article & situation & will say it, but not today.
In the meantime, I'll just reiterate
the fact that publishing & being successful in this field is really difficult. A great way to ensure that your work is taken seriously, though, is to know how to write a strong cover letter, bio, and formatting your poems appropriately.
With that in mind:
My e-book Publishing Poems: An Easy Guide is now *free* to download for the foreseeable future. You can access it here. Love you.
---
To read:
---
Quotations:
I had known the pain, and survived it. It only remained for me to give it voice, to share it for use, that the pain not be wasted.
-Audre Lorde
---
I would lie if I did not also speak of loss.
-Audre Lorde
---
I have come to believe over and over again that what is most important to me must be spoken, made verbal and shared, even at the risk of having it bruised or misunderstood.
-Audre Lorde
---
What I most regretted were my silences.
-Audre Lorde
---
We all shared a war against the tyrannies of silence.
-Audre Lorde
---
I am not only a casualty, I am also a warrior.
-Audre Lorde
---
For to survive in the mouth of this dragon we call america, we have had to learn this first and most vital lesson—that we were never meant to survive.
-Audre Lorde
---
I want to write about the pain.
-Audre Lorde
---
Call to action:
Share a poem you love on social media. Tag the poet. Say something nice.
Here, for example, is a poem I shouted-out a few weeks ago:
---
Tweets:
---
That's it for today! Be safe out there!
-Despy Boutris
Instagram
Twitter
Website
Shop
on poetry & being human is a reader-supported publication. To receive new posts and support my work, consider becoming a free or paid subscriber.